What is the "xApp Dock"?
The xApp Dock is the place in Xumm where the most recent xApps and priority xApps are displayed.
To find it, just launch Xumm and press the "x√" button at the bottom of the screen.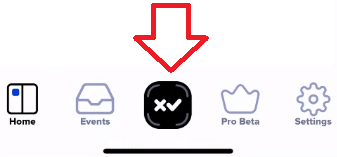 Here is how the xApp Dock looks.
Previous versions of Xumm (prior to v2.3) had one row of xApps which only displayed the four most recently used xApps.
The newer versions of Xumm now displays a second row.
Can I customize the xApp Dock?
Currently this is not an option in Xumm.
The first row displays the most recently used Xumm xApps
The second row displays xApps provided as add-on or by ecosystem developers
Addition reading
If you are interested in learning more about some of the new features in Xumm v2.3, check out this article:
Notes
We understand that you might have additional questions regarding this topic so you are welcome to contact us any time via the Xumm Support xApp in Xumm or you can simply scan this QR code with XUMM and be directed there automatically.