Background
One of the nice features of Xumm is the ability to store an r-addresses in our Address Book. This article discusses this feature and how to use it.
How to find the Address Book
The Address Book can be found by clicking on Settings -> Address Book.
About the Address Book
The Address book is a convenient way to organize and locate the r-addresses of previously used XRP Ledger accounts. As you can see, the contacts are listed alphabetically. There is also a search field where you can search for names or addresses contained in the Address book.
How to add a contact into the Address Book
There are a couple of easy ways to add a contact. Most people will add a contact via the Xumm Event list.(Just press the Events button at the bottom of the screen in Xumm.)
In this case, we received a payment from "Tom". If we would like to add Tom to our Address book, we would simply tap the entry in the Events list...
...then we would select the "hamburger menu"
then select + Add to contacts.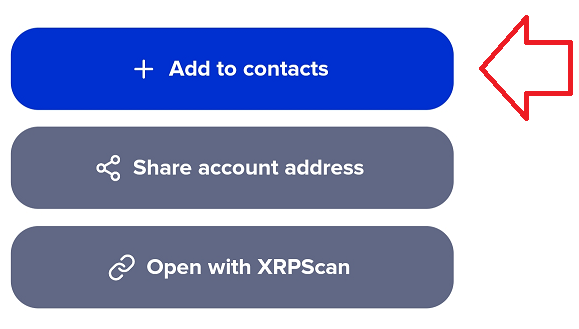 ...the other way to add a contact...
From the Address book screen, press the + .
then you can add the r-address and account name for the new account.
Note: While you could add an exchange account and your destination tag, you should be aware that sometimes exchanges can change the destination tag or their receiving address.
What happens if I have two contacts with the same r-address?
If there is a contact with an r-address and a separate contact with the same r-address and it includes a destination tag when mapping incoming transactions showing the name in the event list, it'll first try the exact destination tag match, then the r-address match.
Can I import/export the Address book?
Currently, a single contact can be shared/exported by tapping a contact in the Address Book, then selecting "meatballs menu"...
...and selecting Share.
We will be adding an export feature for the entire Address Book for our Xumm Pro subscribers in the near future.
If you are interested in learning more about Pro and what it offers, check out this article
For now, all Xumm users will need to manually re-add their contacts manually.
Notes
We understand that you might have additional questions regarding this procedure so you are welcome to contact us any time via the XUMM Support xApp in XUMM or you can simply scan this QR code with XUMM and be directed there automatically.